Giving you that dream organic wedding
How we work at Tuscan Dreams
I love and embrace both Italian and Anglo-Saxon cultures as it's my own dual heritage. This reflects on Tuscan Dreams and the way the wedding is planned. Attention to where the bride and groom come from but attention to the traditions of where you are getting married. This means personalizing the wedding to your wishes but also recommending seasonal and traditional dishes as well as flowers that are in season. I believe in the potential of human beings. I love to see the passion one puts in their own work.
After 20 years of experience, I have seen it all. I will be your go-to person (I am present at each wedding and I will be there to help, and be by the bride's side).
The team of people I work with (photographers, florists, catering, celebrants, drivers, musicians, etc…) is definitely passionate about what they do.
This magic element comes together on the wedding day. Kindness, respect, authenticity, friendship and fraternity on stage on the wedding day with the guests but also backstage when the suppliers are interacting. The good vibes flow during the wedding day. This is an essential component of weddings with Tuscan Dreams. I believe that when good quality, kindness, passion and beauty come together then it's a memorable day for the bride and groom, and us.
These are words that we like to be guided by: beauty, kindness, sustainability, team spirit, happy energy flow, passion for our job, authenticity, good food and wine and ultimately the love of the bride and groom that has guided us to a unique wedding party.
I Work With You To Bring Your Big Day Vision to Life, Stress Free.
The main purpose at Tuscan Dreams, is to make your wedding day as stress free as possible.
Planning & Budgeting
Simply let Erica know the number of guests at your wedding. What type of ceremony you would like (civil, religious or symbolic) Approximate date or month/year of the wedding
Erica, your wedding planner, will give you a rough idea of the budget needed for wedding services and start recommending venues suitable for your size party
Venue & Decor
Pick around 3 venues that you like and I will send you prices of these individual villas.
Decide on the venue you like. Talk on the phone or by email. Erica will then will send you more details on cost.
If you have time/budget, arrange a date to visit the 3 venues in Italy and meet Erica in person.
Book the venue and wedding services by securing them with a deposit.
Coordination
8 months before the wedding we start to plan your day.
Arrange a trip to Tuscany and Erica will guide you through the tasting and on how to plan the details of your wedding day.
If you cannot fly to Italy we'll work through details by phone and email. No problem!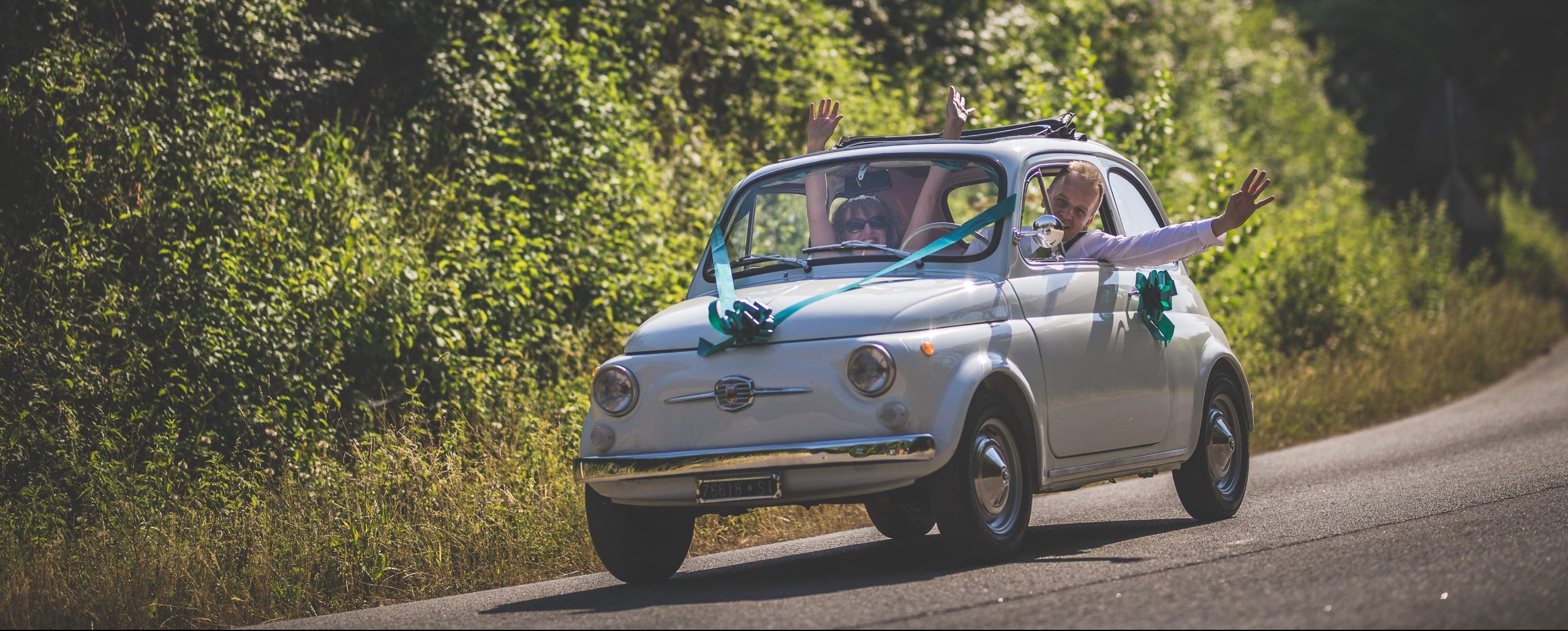 "We just want to say a big thank you for everything you did for us building up to and on the day itself. Everything went so smoothly at a time when we should probably been really stressed but instead we just had an amazing day and an amazing week in an amazing place. The Abbey was perfect, the harpist was great, the chap that married us was so friendly when he had no reason to be to strangers from another country, he wasn't in a hurry, waited for the music to end, and the sun was in the right place. Chuisdino was a beautiful town and it makes us laugh to think that big photos of our faces on passport pages will be in their filing cabinets for years to come! The wedding cake was absolutely amazing, thank you for suggesting that, everyone loved that it was so tasty. We cleared a dance floor upstairs after the meal and everyone danced the night away, after the older folk went to bed after midnight some time and we continued until daylight! The Villa was perfect, Franco was an absolute star, he couldn't do enough to help. It was all absolutely perfect so thank you for making that all happen on the Italian side for us. Thanks again Andy & Linsey!"
"Erica Thank you so much for all your hard work. You gave us a truly magical wedding and we will never forget it. Thank you for being so understanding and making our ideas come to life. We will always cherish that day in San Galgano for the rest of our lives. Love Sarah and Damian."
"We just wanted to take the time to say a huge thank you to both of you for all of your hard work and efforts to plan the most wonderful wedding day for Mark and I.  It really was just like a fairytale and we loved every single minute of it.  I could not have imagined a more perfect day – everyone has said that it was one of, if not the best, weddings they have ever been to and we will cherish the memories of the idyllic setting, the amazing flowers and tables, decorations, food, entertainment (the folk trio were incredible!!) and of course the amazing staff, Marco and every member of the catering and the Villa staff were so friendly and really made the whole experience what it was!  Mark and I really cannot thank you enough for taking our vision and making it into a reality.  Although it feels like a distant dream already we cannot be sad that it is over, because it was just so wonderful. Best wishes, Jaclyn and Mark."
Are you ready for a magical
Day with your loved ones?